Wondering how you can save money on your home loan? With the cost of living and interest rates increasing, now is the time to review your loan, securing a great interest rate and saving on repayments.
As the economy continues to recover, interest rates are tipped to increase by as much as 2% over the coming months. In fact, while there are still low rates available in the market, we've already seen rate rises by many of the big banks and lenders with more to come.
As the market shifts, this is the perfect time to consider a Fixed Interest Rate loan. What is a Fixed Rate Loan? It's where you lock in a low rate for 1 to 5 years with a set repayment amount. The lower the interest rates, the less you pay the bank, saving you money over the life of your loan. Compared to a Variable Loan where the weekly or monthly repayments can change frequently, the fixed repayment amount associated with Fixed Rate Loans makes it easier to budget for, since you always know what to expect.
Banks and financial service companies make most of their margin through long term clients who don't regularly review their loan or ask for a better rate – and that's where we can help!
As part of reviewing your loan/s, we consider which type of loan suits you and your circumstances, different financial institutions and other ways to save you money – negotiating with the banks on your behalf to reduce costs, minimise repayments and lock in a great rate.
With over 100 years of combined experience in the banking industry, and access to over 40 lenders, we can review your loan to ensure you have a great interest rate and aren't paying more than you need to. The best part? We're paid by the banks, not by you. Our focus is on providing an exceptional loan experience for every customer, every time!
 At Connecting Finance, we work on behalf of each of our customers to regularly review your loans, ensuring you have a great rate so you save money and pay off your home sooner. To find out how we can help you with all your lending needs, or to book your free appointment, get in touch today!
To find out how we can help you with your lending needs, get in touch today or find out more at www.connectingfinance.com.au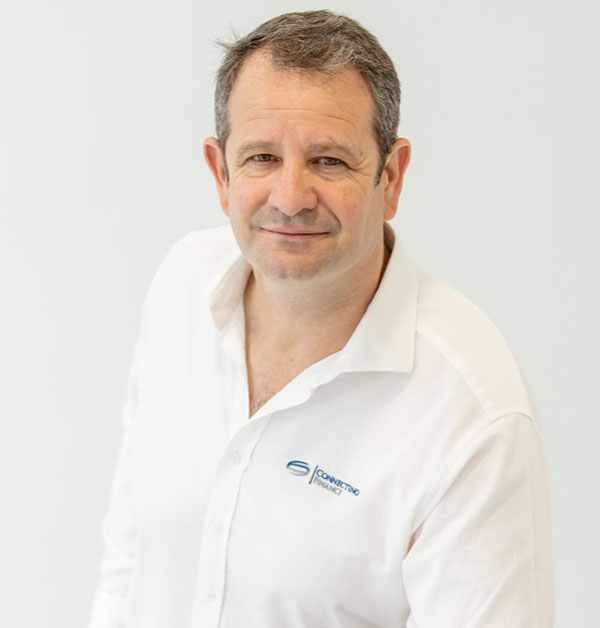 Geoff Bell, Director, Connecting Finance
With over 15 years' experience in the banking industry, we know how banks work and will secure the best loan for you!
We put our customers first & will guide you through every step of the loan process from our first conversation until settlement, and we even follow up to make sure everything's as it should be
We are a boutique mortgage broking company that has been built on trust and integrity.